Hens Night Packages
Your best friend's wedding festivities will not be complete without her hens party! As her BFF and maid-of-honor, she is expecting so much from you, so here you are, working your brains out to plan a hens night celebration.  It's time to look for a perfect hens night package for her!
You do not have to trouble yourself about the preparations of a memorable hens night (or even a birthday party or a girls night out). Helpful Hunks has an array of hens night packages that would be perfect for your celebration. We are sure that you will get your money's worth by giving you the best service you can experience. 
Book The Best Hens Night Package
Choose a package according to your preference, for sure we have one that will suit you. Leave the rest to us, our hens night packages will take care of you from the start to the end of the occasion. Needless to say, we will make your party the way you want it to be. 
Planning a party has never been this easy with Helpful Hunks. No need to worry about drinks, venue, transportation, and entertainment: we have these all worked out for you. Just put on your best dress, slip on your party shoes and have the best night with the gang!
Helpful Hunks Hens Night Packages 
The closest thing to having a special hens night (or any event for that matter) is by availing of our hens night packages. Helpful Hunks' packages are here to make your planning a breeze. Whether you want to party at our male strip club or somewhere else, we'll bring the excitement right where you are. 
 Hens Night Special

 Hens Day Package

 Magic Men "Feel The Magic" Show

 Dinner and Show

 Limo and Show

 Party Bus and Show
These party packages come with add-ons that would complement your party. Seat upgrades, food and drinks, private strip shows, dance lessons and more – all are thoughtfully arranged for your satisfaction. We can always adjust to your preferences because we value your choices. Enquire from our friendly staff now.
Hens Night Special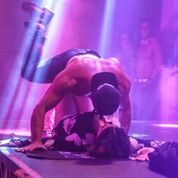 Get big doses of fun and excitement with our Hens Night Special. Your three-and-a-half hours of excitement start the moment you enter our posh strip club. Our smart waiters will welcome you with a smile and a drink, and servings of hot finger foods. 
Familiarize yourself with your reserved seating and have your fill of a fantastic strip show performed inside our posh club. Nothing is more exciting for the bride-to-be than being called onstage for a special dance number exclusively for her. 
And if you are still in the mood for some after-party activities, join your fellow guests for more action on the dance floor!  
Hens Day Package 
You will love what this package has in store for you – three fun-filled activities to get yourself occupied while gaining new skills at the same time. We are talking about these interesting tasks to add something new to your experiences:
Cocktail making class.
Learn the basic art of liquor mixing and bartending from our experienced bartenders.
Burlesque lessons.
Go into adventurous dancing by knowing the techniques in burlesque, complete with costumes and props for a realistic feel!
Life drawing.
Get your artistic hand working with this life drawing session featuring our attractive model. Capture his different poses on canvas while he removes piece by piece of his clothing right before your eyes. 
Throughout this event, our topless waiters will provide you with drinks to perk up your mood and have you entertained with their appealing looks. Upgrades may be added to this package if you wish.
Magic Men "Feel The Magic" Show
What is a hens party without the iconic male strip show that sends every lady guest's heart literally miss a beat? You will definitely miss the fun if you don't have this on your hens night party plans.
An enchanting night awaits you right inside our strip club. Our friendly waiters will welcome you and be ready to serve you with champagne and nibbles. Witness spectacular performances of the Magic Men in your reserved seating, and the bride-to-be should get ready when called onstage for her one-of-a-kind experience with our exotic dancers. Let our men captivate you as they prove why they are the best dancers in the whole of Australia!
Whenever you are still on for some more fantastic adventures, come to the after-party. Rock the night away, dance, and be merry with your favorite people. 
Dinner and Show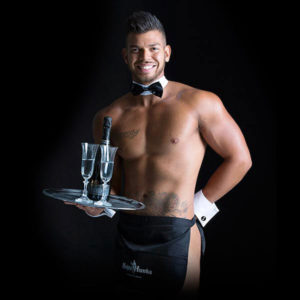 Good food brings people together, and it is especially true to parties and celebrations. For your Dinner and Show Package, a scrumptious dinner is an opener for an unforgettable evening ahead. 
Have your dinner in one of Melbourne's popular restaurants – the main meal and shared platters. You will then be escorted to the venue of the superb Magic Men performances. Nothing could be more spectacular than these guys whose show is really out of the ordinary. 
Make the most out of your stay in our strip club: taste more fun at the after-party!
Limo And Show
A cruise around Melbourne in a posh limo is something to look forward to if you plan to get the Limo and Show Package. A one-hour tour with at least 10 of your friends, get energized with clear and crisp music from the built-in entertainment system of this car. Travel in style with a glass of champagne on the side, and prepare for the Magic Men show after you are brought to the strip club and welcomed by our helpful hunks. 
Cheer for the bride-to-be as she is being whisked upstage for that special show. Share her delight when you witness these men performing their best only for you. And if you are not yet satisfied, grace the after-party and forget your worries for now. 
Party Bus and Show
So you have more than 20 guests for your hens night and you worry about how to get them to the venue together? The Party Bus and Show Package is a great option for you. Your guests can ride together in this posh bus for an hour, get a tour around Melbourne while listening to music in its fully-equipped audio system.
Travel to the strip club, be escorted inside the strip show venue, and witness the best Magic Men performances. Let these sultry hunks give you the show you are dying to see. Your special girl will be thrilled to have these men shower her with their undivided attention onstage. Continue your revelry in the after-party – all in the same place!
Let's Plan A Hens Party!
To have the best hens party for your friend, the bride-to-be, create a checklist so that you will be in the right direction. As you go along with the preparation, there will be changes in the plan, but as long as it is for the better, there's no problem with that.
Here are some nice ideas to consider when planning a hens party:
Choose a hens night date.
Be sure that is not too hear from the date of the wedding. The bride-to-be needs more time to prepare for her wedding day.
Coordinate with the bride-to-be. 
Finalize the guest list as soon as possible. She has the final say on who to invite, after all, it is her celebration.
Prepare the budget.
Gather the funds as early as possible then work up your plan according to the collected money. Note that you should collect all the funds before you allocate the expenses.
Do not plan alone.
Do not get the idea that you can do the planning alone, make sure to ask for help from the bridesmaids. More ideas bring more good results, so it is better to get their suggestions on what to do to pull off a successful event.
Choose a venue that is accessible and convenient.
Make sure that it is also appropriate to the activities of the hens night. Do not choose a mountain cabin for a venue if you have a beach volleyball game for your activity! 
Choose activities that your guests can participate in and enjoy.
If not possible, group your guests as to what their interests are. That way, everyone gets to do what they enjoy.
Communicate with each other easier.
Create a chat group or any means to ease up your messages with each other. It is important to let the guests know your itineraries, so be sure to let them know of the party plans.
Plan your bookings.
If you decide on a hens party outside of town, if possible, book your guests are in the same hotel or lodging house. This will save precious time of looking for guests who may be left behind because they are housed in a different location.
Enjoy.
This is hands-down, the most important rule of your hens night: have fun! Your friend, the bride-to-be, is going on a new phase of her life, a lifelong commitment to love – celebrate with her and leave nothing but great memories of this occasion!