Top 9 Sexy Themed Parties Perfect For a Helpful Hunk!
hunksadmin
Let's be real, themed parties are hands down the most fun! There's something about dressing up as something you aren't and taking on a different identity that adds to a soiree. Spice up your next themed party by bringing along a few of our helpful hunks. They'll be sure to kick off the party and make it a night to remember! To make life a little easier for you, we've found the top 9 sexy themed parties for your next shindig.
1. Masquerade
Add a little mystification to your next get together with a masquerade theme. Pop on a sexy dress, some heels and a mask of course and you're good to go! Sit back and relax as one of our topless barmen pour you drinks all night long. Our hunks will have masks on as well, taking things up a notch.
2. Great Gatsby
Looking to class up your next event, while still keeping it playful? Go for the Great Gatsby theme and get done up in your best 20's gear. Although Leo won't be able to attend your event, luckily for you our helpful hunks are more than happy to serve your food and drinks throughout the night. They'll show up in a suit and tie to go with the theme or if you're after a more cheeky evening, our hunks will also gladly serve you topless!
3. Murder Mystery
Keep the mystery alive with a murder mystery themed party. While this party may take a little extra planning, it will be well worth your time and hard work. The storyline can go in any direction you like so feel free to make it as sexy as you want. You can even kill off one our hunks – figuratively speaking of course 😉 – if your heart so desires.
4. ABC
It goes without saying that an ABC (anything but clothes) party will be fun for everyone. This theme will take everyone back to their uni days, as well as present an opportunity to show off your creativity. With options from the classic duct tape outfit, to newspapers, bubble wrap, body paint and more there's something for everyone. Play games like charades or twister and have the hunks join in on the fun!
5. Rumble in the jungle
Throw on your best safari/animal print gear and get ready for a wild night! This theme allows for a range of different costume options as well. Floral shirts, khaki shorts, a whip to tame the wild animals… anything goes!
6. Under the sea
Take a note from Ariel and go with a mermaid themed night. Our topless waiters will be ready and waiting for your crew in their underwater outfits if that suits you! Spend the night in cute mermaid bikinis or any swim/summer wear you'll feel sexiest in.
7. Hoedown/ Wild West
If country music if your thing, go with a hoedown or wild west theme. Strap on those cowboy boots and take one of our hunks for the ride of a lifetime! Of course our hunks look great shirtless, but think about how much sexier they'll look with a cowboy hat on.
8. Pirate
Ahoy matey! If you loved the Pirates of the Caribbean series, or are just into pirates (I mean we won't judge!), then a pirate themed party is a great way to go for your next event. Spend the night having Jack Sparrow or Will Turner chat you up – our hunks can be quite convincing!
9. Toga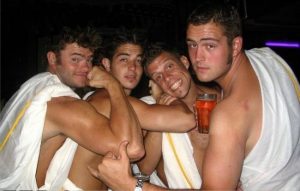 If all else fails you can always go with a classic toga party. Not only is it cost effective (everyone has a bed sheet/towel to spare!), but it's also comfy and fun. Feel like a Greek Goddess as the Greek Gods are at your every beck and call. Sounds like a fun night to us!
We can't wait to see what theme you go with for your next private event. Contact us today to ensure you have the right hunks at your party.