hunksadmin
Struggling to find your inner stripper? A huge part of stripping has to do with how you dance and get into the groove of things. After all, how are you supposed to make taking your clothes off sexy without the right tune playing in the background? It's just not possible. At Helpful Hunks, we know it's not always easy to find songs that bring out your inner stripper, besides the classic go-to,"Pony". That's why we're letting you in on our faves that you'll be able to make your own!
1. Hot in Herre – Nelly
Hot in Herre is a timeless song you can never really go wrong with. It's a great place to start and will automatically get you in the mood to bust out the sexy dance moves. If you're new to stripping it basically instructs you how to strip with the lyrics "I am getting so hot, I wanna take my clothes off". 
2. Buttons – The Pussycat Dolls
If you're a 90's baby you're sure to have fond memories of this tune. The Pussycat Dolls emulated sexy-ness in each and every one of their songs. This song is also great for beginners as the entire song alludes to undoing your buttons and taking off your pants. If you're struggling with your moves just watch a few of their music videos and you'll be set!
3. Sex With Me – Rihanna
It's hard to be anything but sexy when dancing to Rihanna. This song is especially sexy if you're looking for something with a slower beat. Slowing things down a bit allows you to test the waters with new moves. 
4. Booty – Jennifer Lopez
This song is great if you have a booty to flaunt. The title really says it all. The fast beat is fun and great for twerking. If twerking is where you thrive, now's your time to shine! Don't fret if you don't know how to yet. While it's a skill, almost anyone can learn to do it with a little practice. We have faith in you!
5. I Wanna Love You – Akon
Another slow one that's great for a lap dance. Practice at home with a chair and see how you can change up your moves. You can take notes from the music video if you're having trouble. If you happen to have a pole to dance on, it's a great prop for this song as well!
6. Strip – Chris Brown
If you're after a more upbeat song, Chris Brown's Strip is definitely fitting for any stripping occasion! It's the kind of song that will have anyone ready and willing to get their hips moving. It also works for a great hair flip moment when he sings, "baby don't worry about your hair". Once you get into the groove it'll feel natural. 
7. S&M – Rihanna
It was too difficult to narrow this list down to just one Rihanna song. S&M speaks for itself with it meaning sadism and masochism (pleasure from receiving or inflicting pain during sex). This song is great if you have props like a whip that you want to use to take things to the next level!
8. Birthday Sex – Jeremih
Nothing better than birthday sex, am I right? This song is risqué and sensual, making it the perfect song to strip to. Try a body roll or two with this one and see where it takes you!
9. The Motto – Drake
This Drake song will have you up on your feet and dancing before you know it. This song is a little faster than the rest with great hip-hop vibes to get down to. The lyrics are sexy of course and gives the song more of a dirty feel.
10. Naughty Girl – Beyoncé
Are you naughty or nice? Bring our your inner stripper and naughty side with this one. This sultry song and throwback will have everyone ready to get down low and dance it out. 
11. Ride – Ciara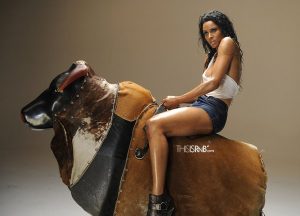 Slowing things down once again, Ciara takes things up a notch with the lyrical imagery of "riding the beat". We know what you're up to Ciara and we're not complaining one bit!
12. Cookie – R. Kelly
Last but not least on our list of favourite songs that will bring out your inner stripper, is R. Kelly's Cookie. One of the dirtiest on our list by far, if this song doesn't get you in the mood to take off your clothes, we're not sure what will!
Still unsure about your sexy moves? Our hunks are always happy to help you learn a trick or two! Stop by our show at one of the best male strip clubs in Melbourne for some more inspiration or you could even invite a hunk over for a private party. Give us a call today to get started with a hunk or book your hens party in Melbourne!