hunksadmin
You're not a regular company, you're a cool company! So that means you're looking to turn heads at your next corporate event, right? Why have a boring affair when you can spice things up and give your employees the night of a lifetime! Luckily for you, Helpful Hunks provides a professional, yet cheeky service to make your event even more spectacular than you could've ever imagined.
If we haven't convinced you already, here are some reasons why you can't miss out on bringing one of our many helpful hunks for your next corporate event!
1. Go out with a bang!
We're sure you know that Helpful Hunks is a sure fire way to stand out when it comes to your corporate events because not everyone is quite as daring as you. Our topless waiters are able to cater to your every need, while taking all of the stress off your hands. Looking to class up an event with attractive men to greet and seat your guests? Our hunks are more than happy to put on a snazzy suit and tie for the night! Or perhaps you're after something a little more cheeky…. Our hunks can do it all! They also have charming personalities that are sure to win over everyone at the party. Don't underestimate what a little pizazz can add to your event. Your co-workers will be talking about it long after the night has ended.
2. Team building
Okay, hear us out… we know it's not exactly traditional to organise a team building event with topless waiters or barmen, but you're after a unique experience right? Our hunks don't simply serve food and drinks, they can take part in any game or team building activity you have in mind. No need to worry any awkwardness, our hunks work to bring people together through laughter and a bit fun. Not sure where to start when it comes to team building? Maybe consider our life drawing package, where you can compete to see who's artistic abilities are on top!
3. Reward your deserving employees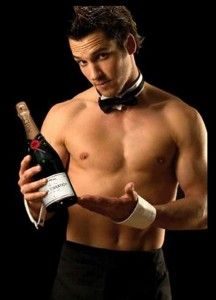 All work and no play? That's surely not what your company is about! Yes, hiring a few helpful hunks may be a bold move, but we like to think that the risk is worth the reward. A standard Christmas party, launch party or whatever event you're after probably won't sound too thrilling to your hardworking employees… that is unless you include Helpful Hunks in your plans! There's no better way to reward your employees than with a fun night they would never see coming. Keep things mysterious to boost anticipation and just hint that things might get a little more crazy than usual. With options for anything from small startups to large corporations, our hunks will be able to show you an amazing night. Everyone will be sure to leave grinning from ear to ear!
So what are you waiting for? Let's make your next corporate event one to remember! Get your hands on one of our saucy packages today and explore all that Helpful Hunks has to offer!